Akshaya (AK-627) Kerala Lottery Result Today (26-11-2023)
The Akshaya Kerala Lottery (AK-627) draw is scheduled to be held on Sunday, November 26, 2023 @ 03:00 pm . This is a weekly lottery conducted by the Kerala Lotteries Department on every Sunday at Gorky Bhavan, Near Bakery Junction, Thiruvananthapuram, Kerala - 695101.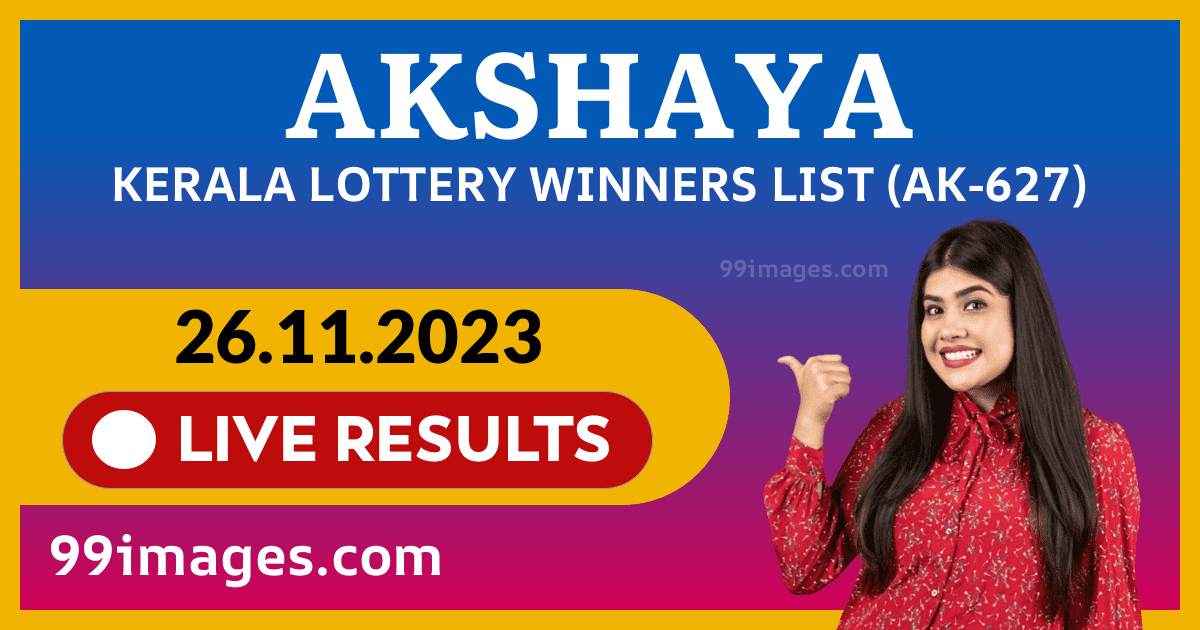 1 Crore 8 Lakh Akshaya lottery tickets were printed and made available for ₹40 each, totaling a collection of ₹33.75 Crores . The first prize winner will get ₹70 Lakhs and the second prize is ₹5 Lakhs . There is a third prize of ₹1 Lakh, which will be given to multiple lucky winners. ₹20.14 Crores worth of prizes are to be given away to 2,65,705 lucky winners on this draw of the Akshaya Kerala Lottery.
The draw is conducted live on 26-11-2023 at 03:00 pm, in front of a panel of government officials to ensure the draw is conducted fair and genuinely. The Akshaya (AK-627) Winners are randomly selected using a mechanical drawing machine and results are announced live.
You can check the Live Results and Full Winners List at this from 03:00 pm.
AG 137452
(Thiruvananthapuram)
Agent Name:
P Thanakarajan
Agency Code:
T 2356
Agent Name:
Sajimon M
Agency Code:
Y 3026
AC 673735
(Neyyattinkara)
AH 883500
(Neyyattinkara)
Important: Kerala Lottery Prize winners are recommended to confirm their winning numbers against the results listed in the Kerala Government Gazette and submit their winning tickets within a 30-day period to
claim the prize
.
How to claim the Kerala Lottery Prize?
To claim a Kerala Lottery Prize, please make sure that your number matches the official results, by checking our website and government gazette. Based on the amount you have owned, you will need to visit the Kerala Lotteries Department Office or Lottery Agents.
If you have won less than Rs.5000, you can collect the prize from any registered Kerala Lottery Agent. If your prize money is below 1 lakh, you need to visit any Kerala Lottery District Office. If you have won a prize of more than Rs. 100000, you will need to Kerala State Lotteries Department office located in Thiruvananthapuram with all the required documents. For more detailed instructions on claiming Kerala lottery prizes, please visit the official Kerala Lottery Results website.
Tomorrow Win-Win Kerala Lottery Result (27-11-2023)
Win-Win's weekly lottery W-745 draw is scheduled to be held tomorrow (27-11-2023) at 03:00 pm at Gorky Bhavan, Near Bakery Junction, Thiruvananthapuram, Kerala - 695101. This is a weekly lottery draw, that occurs every Friday. The draw starts exactly at 03:00 pm tomorrow in front of the government officials and the results will be announced live. There are a total of 1 Crore 8 Lakh printed tickets of Win-Win lottery ( W-745) made available for purchase, priced at ₹ 40 each (inclusive of 28% GST).
The Win-Win weekly lottery offers a total of 9 prizes, including a consolation prize. The total prize amount is ₹20.11 Crore , which will be distributed among 2,70,025 lucky winners tomorrow. The first prize winner will receive ₹75 Lakhs , and the second prize is ₹5 Lakhs . The third prize consists of ₹1 Lakh and will be awarded to multiple winners. For more detailed information, you can visit the lottery draw page for tomorrow: Win-Win W-745 (27-11-2023) Kerala Lottery: Prize Structure, Official Winners List.
Previous 30 Days Lottery Draws
If you've missed any of the previous 30 days draws, you can check the results from the list below. Please note that all the Kerala lottery winners should submit their winning lottery tickets within 30 days to claim prizes.
Disclaimer: The information presented on this website is intended for general reference. While we make diligent efforts to ensure its accuracy, it should not be regarded as a replacement for official sources. It is strongly recommended to corroborate any crucial information or facts through the official website or appropriate authorities for the sake of accuracy and comprehensiveness. We cannot be held accountable for actions taken solely on the basis of the information provided here.